INCREASING RIG MOVE EFFICIENCY AND ENABLING STORM EVACUATION
Delmar Systems' Releasable Mooring System is perfectly suited for the moored and DP/moored semi-submersible rig fleet and offers maximum efficiency, flexibility, and safety for operators and rig owners.
Developed with the experience of thousands of successful rig moves, our Releasable Mooring System greatly reduces risks and provides a path to regulatory approval for eight-line MODU systems in regions that have historically required more time-consuming and costly mooring spreads.
Features of the Releasable Mooring System:
Maximized rig move efficiency
Cost savings on rig moves with quick disconnect times and weather delay avoidance
Allows rigs to quickly evade storms, ice floes, or well emergencies
AHV weather downtime eliminated
Reduced HSE exposure time for on-deck personnel
Minimized AHV time for rig move
RAR PLUS
The RAR Plus builds on a 35 years of proven acoustic release technology and represents the optimisation of rig move efficiency; achieved by using the new-generation of Rig Anchor Release (RAR) technologies. With 500+ installations, the technology is proven and reliable. Used repeatable by some of the worlds major operators, the RAR Plus has saved millions of dollars for our customers.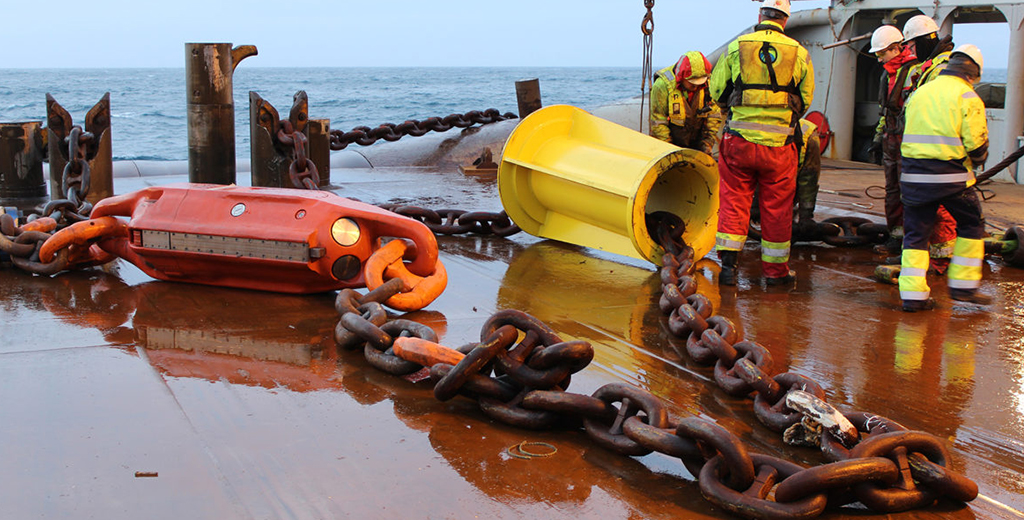 The RAR Plus can be equipped with an acoustic telemetry system that uses integrated sensors so you can enjoy real-time continuous monitoring of local line inclination, depth, and strain. The user-friendly graphical interface displays valuable data for on board personnel to use during mooring activities and for the duration of the drilling campaign. The data stream can also be input into 3D catenary monitoring systems, providing ultimate risk mitigation for mooring in congested fields.

The mechanical backup release bypasses the acoustic, electronic, and hydraulic systems in the RAR Plus, and it can be actuated by either the rig itself or with a nearby support vessel providing 100% redundancy in the system.

The RAR Plus' minimum break load (MBL) has been increased to accommodate modern R5 high-strength mooring lines. The increased repeatable release load limit allows for disconnection at extreme line tensions.
Seafloor Safe Poly
Seafloor Safe Poly - As strong as steel, and on average five times lighter and easier to handle than chain. Delmar's Seafloor Safe Poly lines provide many operational benefits.
With each strand protected in its own coatings, the ropes are DNV certified for bottom contact during prelay, hook up and/or disconnecting. In addition, the certification allows for static contact with the seabed making them compatible for use with the RAR Plus release technology.

Prelaying the Seafloor Safe Poly and then retrieving following a RAR Plus controlled release activation maximises the efficiency of the rig move sequence, allowing operations to continue with minimal interruption.

During operation, buoys may still be required to avoid continuous interaction with the seafloor, but the overall system can have a lot less overall buoyancy due to the Seafloor Safe Poly's design characteristics.

STEVSHARK®REX
The STEVSHARK®REX delivers more holding power in complicated soil conditions, allowing operations to become accessible in the most remote and challenging territories on Earth.

STEVSHARK® anchors represents 25 years of operational experience in hard soils such as stiff/hard clays, dense sands, cemented and over-consolidated soils and rocks. This experience includes soils where a conventional anchor may penetrate the top layer but be unable to reach the targeted depth. The STEVSHARK®REX tackles these complicated soils more effectively. Strong soils are no longer prohibitive.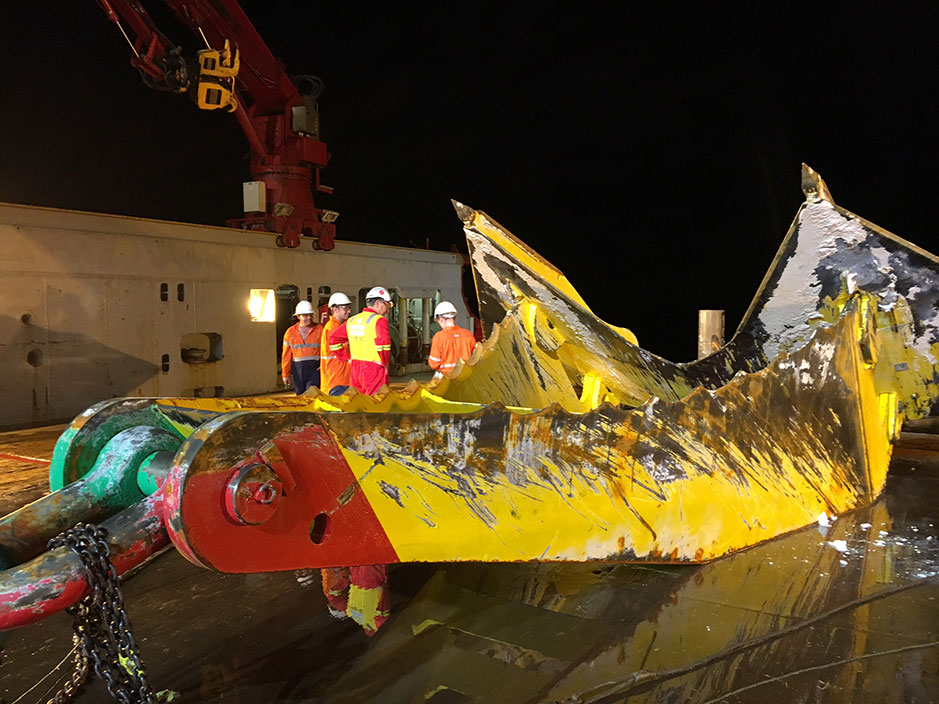 Although specifically developed for anchoring in areas with hard soils, the STEVSHARK®REX can also be set at different fluke/shank angles, allowing adjustment to successfully anchor in softer soils without having to change the anchor type.

The STEVSHARK®REX anchor geometry is a combination of improvements in anchor penetration, handling and efficiency. Anchor efficiency of our anchors has increased through each generation of design, leading to the STEVSHARK®REX obtaining type approval from the main Class Authorities. The STEVSHARK®REX was tested several times in traditional and challenging soil conditions consistently behaving as predicted and proving its superior performance.
The STEVSHARK®REX has large uplift capability allowing its use in soft soils also, thereby experiencing the benefits of mooring in deeper waters.

Improved handling features of the anchor design allows use on relatively small construction and dredging vessels, where its higher efficiency allows for using a comparably smaller anchor for the same holding capacity.