Trust the experts
Our engineers have a broad competence and experience within marine engineering. They have a vast knowledge acquired from operators, engineering companies and equipment suppliers; some have also participated in our offshore operations to secure that engineering solutions are transferred correctly and implemented into operations.
Positioning analysis
Deep Sea Mooring has a long track record of delivery of positioning analysis for our clients. This includes mooring analysis, thuster- assisted mooring and DP analysis. Our experience includes a wide variety of floating structures such as drillings rigs, flotels, FPSOs and floating wind turbines. We have extensive experience using both frequency and time domain techniques applying a wide variety of standards and regulations.
Wave-structure interaction analysis
We perform wave-structure analysis of floating structures to get vessel specific data used as input to our simulation tools. These vessel specific data give information of how the vessel behaves in different wave conditions. The required input is typically GA drawing of the hull, together with detailed information about the loading condition.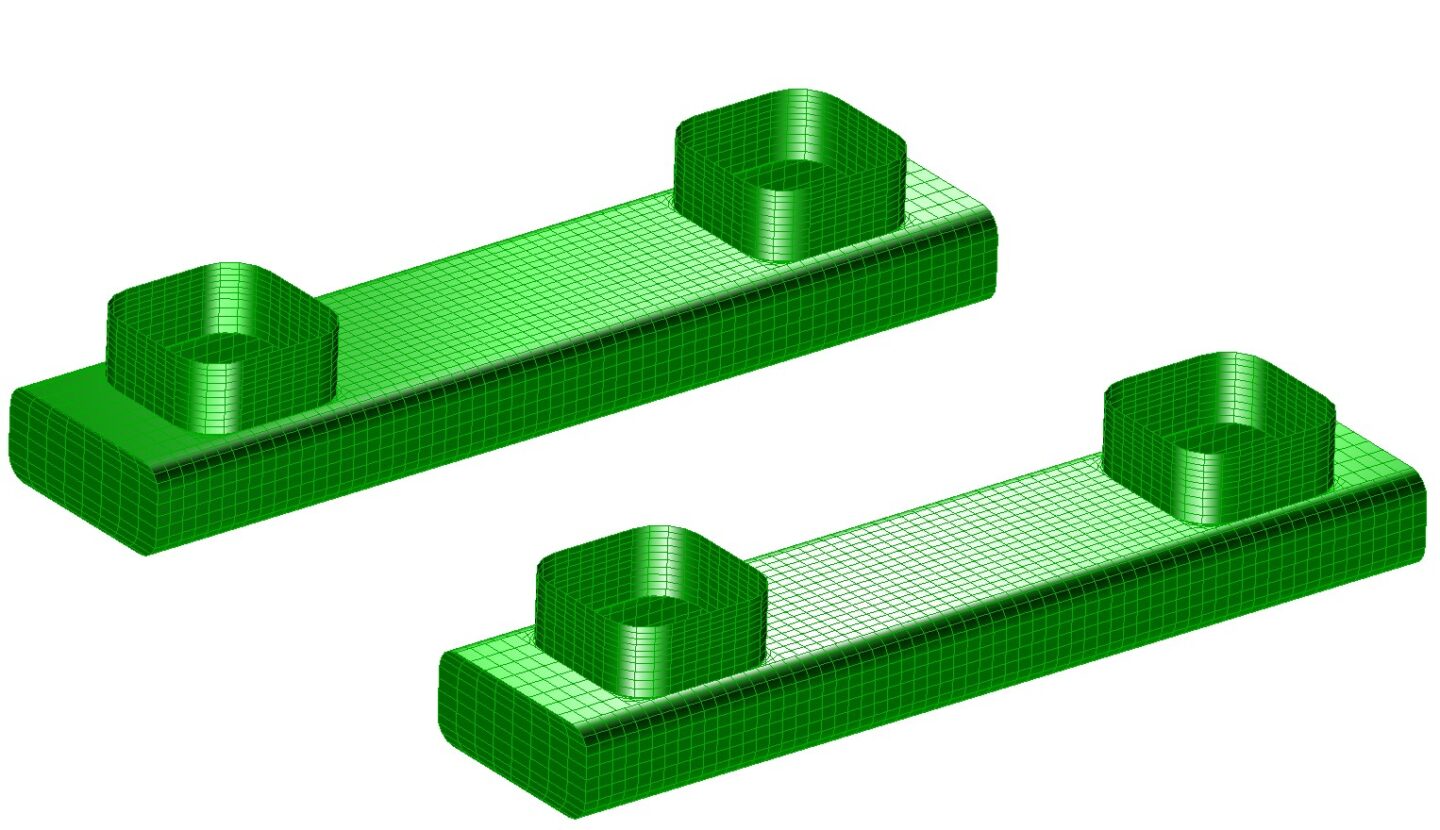 Analysis of marine operations
We model advanced marine operations including multiple floating facilities, offshore crane operations and subsea lifting operations. Typical objective for these analyses is estimation of limiting sea states, feasibility studies for new concept and what-if-analysis.
Software and hardware
We have a wide selection of software packages which enables us to model and analyse most cases our clients can meet, and we have experience with both standard analysis and more advanced and sophisticated analysis.
| | |
| --- | --- |
| Software | Description |
| Multisurf | Generation of 3D models of vessels which is used as input to WAMIT. |
| WAMIT | Calculates hydrodynamic coefficients which is used as input by all our other software for e.g. mooring analysis. |
| GMOOR | Frequency domain software package for analysis of mooring system. |
| MIMOSA | Frequency domain software package for analysis of mooring system. More options than GMOOR, e.g. ATA model. |
| SIMA | Time domain software package for analysis of e.g. mooring systems, marine operations, risers. SIMA use RIFLEX and SIMO for dynamic analysis |
| Orcaflex | Time domain software package for analysis of e.g. mooring systems, marine operations, risers. |
Deep Sea Mooring has also invested in a large simulation server where we can perform up to 120 simulations simultaneously. This enable us to perform our analysis with less simplifications and fewer assumptions and provide our clients with more accurate results in a reasonable time.
Example: Availability analysis using hindcast
The purpose of this analysis is to estimate the expected availability, in principle, for any marine operation. This is shown here with gangway availability analysis for a flotel connected to a host platform.
The analysis model is the same as for the estimation of limiting sea states, but the weather conditions are found from hindcast data for the location. Hindcast is the opposite of forecast, i.e. historical weather data for a specific location.
When performing such an analysis we expose the flotel operation for historical weather data for the location, extract relevant responses and compare these to the same constraints as mentioned for limiting sea states.
An example of results from such an analysis can be seen in the figure below. For this case we have assumed a reconnect criteria of 4m significant wave height.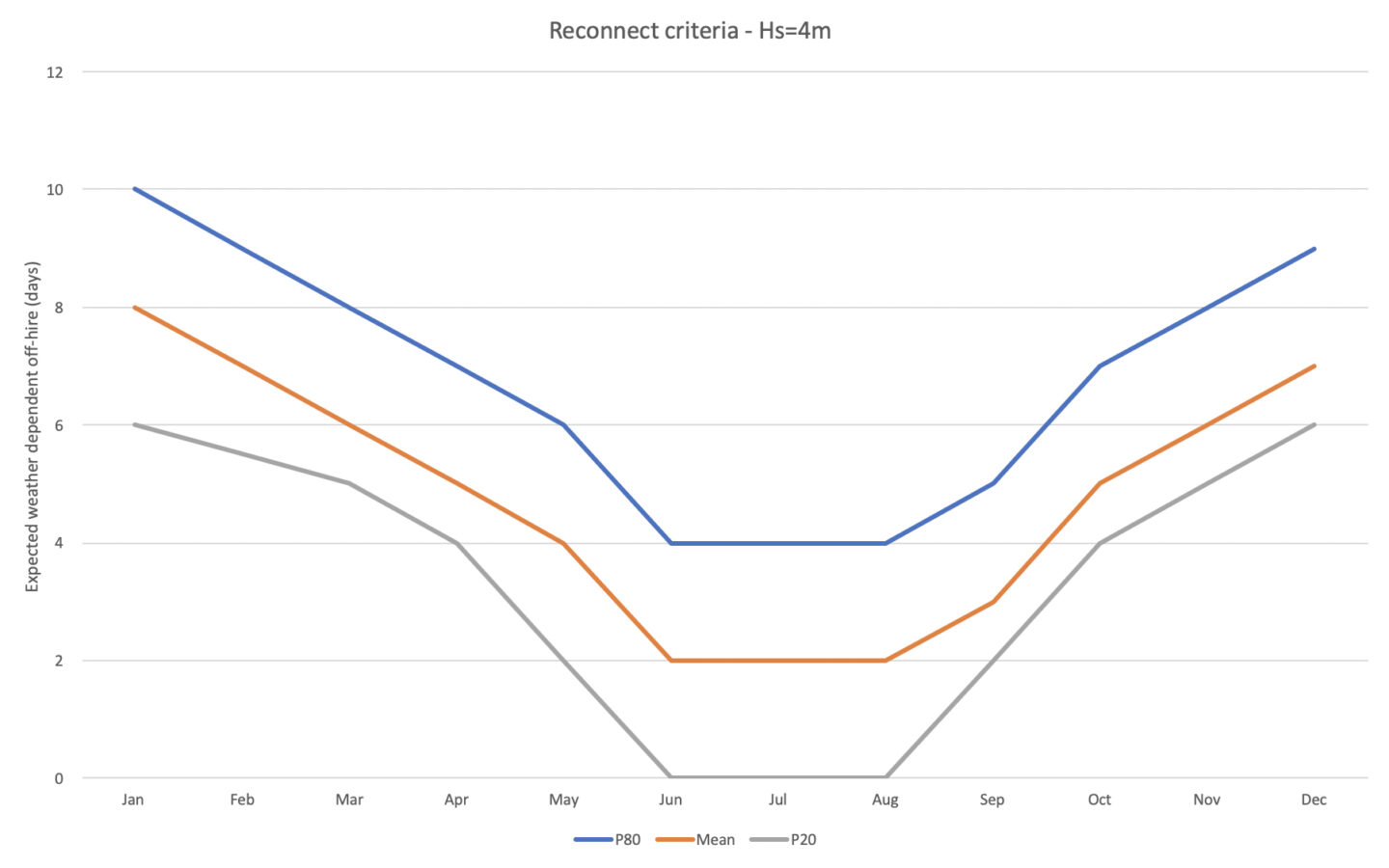 Applications:
Project planning and manning
Consequences of changes. E.g.

Gangway landing position
Size of operational sector
Disconnect criteria
Compare different hull design during procurement of new flotels
Example: Response forecasting
Forecast of response is a new and innovative tool for increasing the availability and safety during flotel operations, delivered by DSM and StormGeo.
The tool combines state-of-the-art hydrodynamic software with weather forecasts. It should also be mentioned that the weather description in this tool utilizes information directly from the wave models from StormGeo, i.e. more information than published for a weather forecast.
Rather than a standard weather forecast, we are now able to forecast the consequence of the weather.
Each 12-hour advanced hydrodynamic simulations are performed, for several heading within the operational sector, with the latest updated weather forecast 5 days ahead. Critical responses such as gangway stroke and jib angle are then published on an online web-portal.
A typical result is shown in the figure below. Each of the colored lines refers to maximum gangway motion for a certain vessel heading, where the yellow and red area refers to caution and disconnect criteria respectively.
In this case, 2 heading are always within limits, while 1 heading is outside the allowable stroke limits and will end in a disconnection.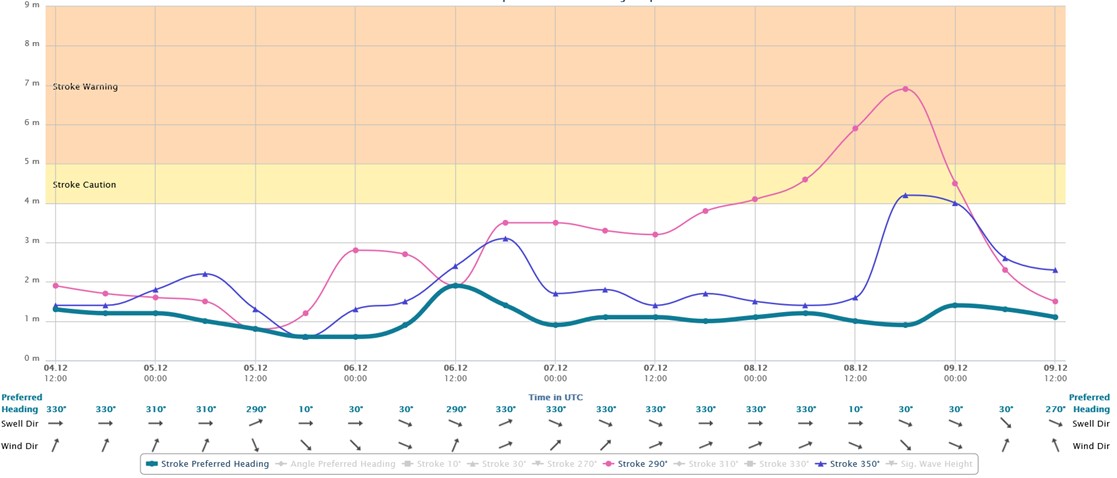 Application:
If all heading tomorrow shows that the flotel will not be able to stay connected, the disconnection can be done in calm waters rather than wait for large motions and increased risk during disconnection.
Find the optimal heading for increased availability.