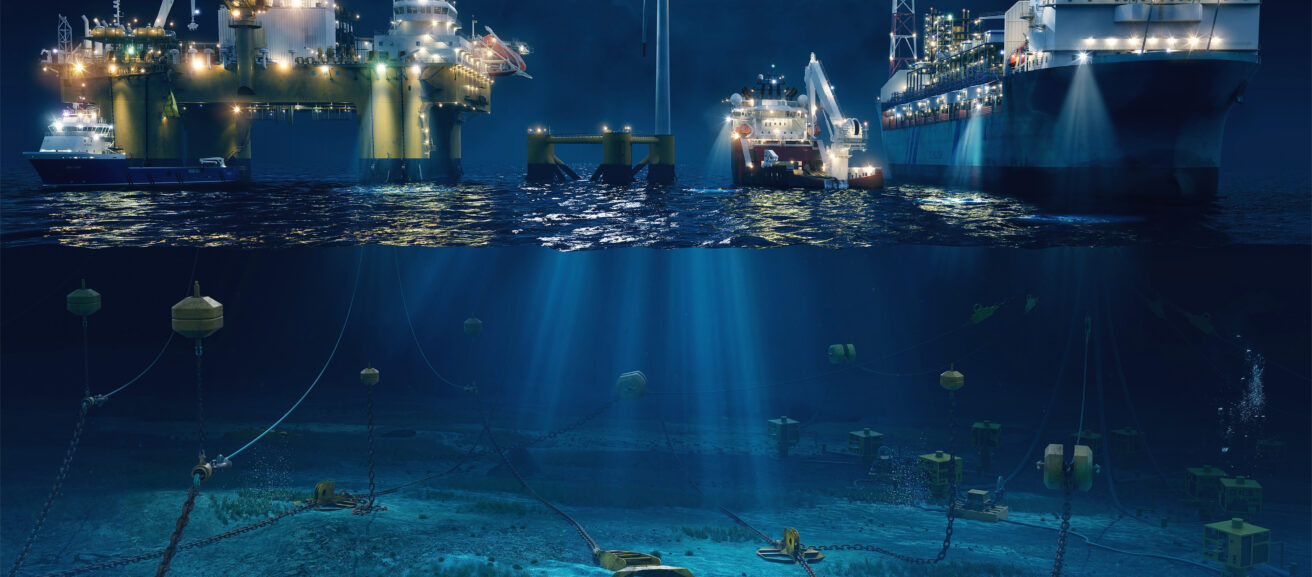 Vryhof is a trusted partner to many of the offshore industry's leading companies, delivering innovative and customer-focused anchoring and mooring solutions. We are committed to the highest standards of safety and integrity and are proud of our legacy and impeccable track record, delivering value in everything we do.
Our 50-year history of setting standards and leading the way in the offshore sector makes us unique in terms of our expertise and breadth of services. In recent years, Vryhof and its installation partners have taken full scope permanent mooring projects for offshore oil & gas and renewables applications by offering innovative and cost effective solutions including design, procurement, installation, life extension and decommissioning.
Vryhof is backed by HitecVision, the leading European private equity investor in the offshore energy industry.
DEEP SEA MOORING
Deep Sea Mooring is the trusted choice for Exploration & Production companies and drilling operators that demand the best in safe, innovative and optimum quality mooring solutions. We understand the needs of customers looking for complete peace of mind when operating in the harshest of natural environments. Our aim is to meet individual customer demand and outperform expectations right around the world. With this in mind, we offer a comprehensive portfolio of services, including advanced risk assessment studies, marine engineering, the rental of cutting edge mooring equipment, chain inspection services, complete pre-lay and rig move solutions, and a broad range of ancillary services.
MORE ABOUT DEEP SEA MOORING

VRYHOF ANCHORS
Vryhof Anchors designs and provides drag embedment anchors, chain shortening clutches, such as the STEVTENSIONER®, and related mooring equipment for larger floating structures in the offshore energy industries, including FSRUs, FPSOs, FSOs and large-scale wind applications, as well as for offshore civil applications. Since the foundation of the company in the early 1970's, our proven and trusted anchor designs have become the industry standard, regarded as being best in both performance and handling. With over 10,000 anchors in operation, our primary focus is customer satisfaction.
MORE ABOUT VRYHOF ANCHORS

GLOBAL PRESENCE WITH LOCAL COMMITMENT

Our commitment to customers is unwavering and we continue to develop our services and expertise in line with their requirements. A key feature of this is our investment in our team, ensuring we provide the highest standards of technical expertise and practical operational experience. As a result, our geographic spread is becoming increasingly broader and our capability for expansion into new business streams continues.

Our international teams share common standards and deliver a consistently high level of service and competency, working closely together to provide around-the-clock response covering five continents. We understand that many projects demand wide reaching support from multiple locations and our teams' expertise in coordinating these multinational operations allows us to respond quickly and deliver consistently, integrating specialist local knowledge throughout.

HEALTH, SAFETY, SECURITY, THE ENVIRONMENT AND QUALITY

Risk and safety are inherent to every aspect of the marine and offshore environment. Our divisions have access to an innovative, multi-skilled team of experts to develop and implement methods and tools to identify, evaluate, quantify and mitigate risks, in order to make the offshore world a safer place.

In our mission to provide unparalleled excellence and technical expertise, we promote an exemplary safety culture, based on quality and a drive for continual improvement.

The offshore industry demands unprecedented levels of safety management and quality control and we meet these through accreditation under OHSAS 18001:2007, ISO 9001:2008 and ISO 14001:2015.

Under the guidance of inspired safety management leadership, we implement rigorous risk reduction processes to safeguard the welfare of all parties involved in our business. You can trust us to better improve your performance, safely.