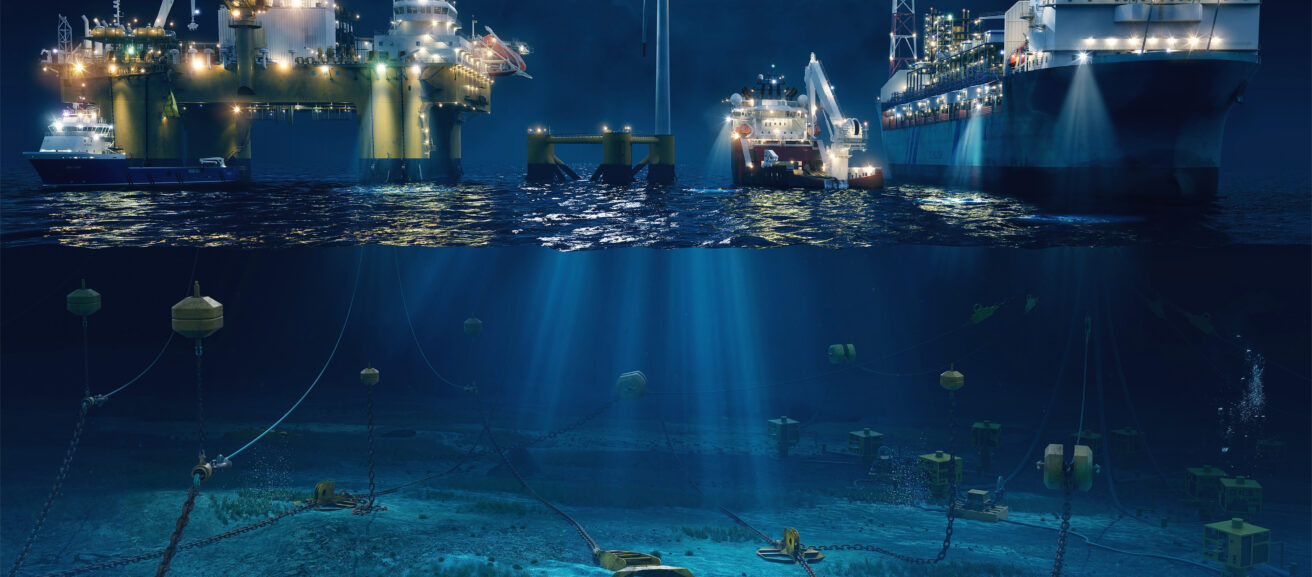 Vryhof is a trusted partner to many of the offshore industry's leading companies, delivering innovative and customer-focused anchoring and mooring solutions. We are committed to the highest standards of safety and integrity and are proud of our legacy and impeccable track record, delivering value in everything we do.
Our 50-year history of setting standards and leading the way in the offshore sector makes us unique in terms of our expertise and breadth of services. In recent years, Vryhof and its installation partners have taken full scope permanent mooring projects for offshore oil & gas and renewables applications by offering innovative and cost effective solutions including design, procurement, installation, life extension and decommissioning.
Vryhof is backed by HitecVision, the leading European private equity investor in the offshore energy industry.
DEEP SEA MOORING
Deep Sea Mooring is the trusted choice for Exploration & Production companies and drilling operators that demand the best in safe, innovative and optimum quality mooring solutions. We understand the needs of customers looking for complete peace of mind when operating in the harshest of natural environments. Our aim is to meet individual customer demand and outperform expectations right around the world. With this in mind, we offer a comprehensive portfolio of services, including advanced risk assessment studies, marine engineering, the rental of cutting edge mooring equipment, chain inspection services, complete pre-lay and rig move solutions, and a broad range of ancillary services.
MORE ABOUT DEEP SEA MOORING

VRYHOF ANCHORS
Vryhof Anchors designs and provides drag embedment anchors, chain shortening clutches, such as the STEVTENSIONER®, and related mooring equipment for larger floating structures in the offshore energy industries, including FSRUs, FPSOs, FSOs and large-scale wind applications, as well as for offshore civil applications. Since the foundation of the company in the early 1970's, our proven and trusted anchor designs have become the industry standard, regarded as being best in both performance and handling. With over 10,000 anchors in operation, our primary focus is customer satisfaction.
MORE ABOUT VRYHOF ANCHORS

GLOBAL PRESENCE WITH LOCAL COMMITMENT

Our commitment to customers is unwavering and we continue to develop our services and expertise in line with their requirements. A key feature of this is our investment in our team, ensuring we provide the highest standards of technical expertise and practical operational experience. As a result, our geographic spread is becoming increasingly broader and our capability for expansion into new business streams continues.

Our international teams share common standards and deliver a consistently high level of service and competency, working closely together to provide around-the-clock response covering five continents. We understand that many projects demand wide reaching support from multiple locations and our teams' expertise in coordinating these multinational operations allows us to respond quickly and deliver consistently, integrating specialist local knowledge throughout.

HEALTH, SAFETY, SECURITY, THE ENVIRONMENT AND QUALITY

Risk and safety are inherent to every aspect of the marine and offshore environment. Our divisions have access to an innovative, multi-skilled team of experts to develop and implement methods and tools to identify, evaluate, quantify and mitigate risks, in order to make the offshore world a safer place.

In our mission to provide unparalleled excellence and technical expertise, we promote an exemplary safety culture, based on quality and a drive for continual improvement.

The offshore industry demands unprecedented levels of safety management and quality control and we meet these through accreditation under OHSAS 18001:2007, ISO 9001:2008 and ISO 14001:2015.

Under the guidance of inspired safety management leadership, we implement rigorous risk reduction processes to safeguard the welfare of all parties involved in our business. You can trust us to better improve your performance, safely.

The 17 United Nations (UN) Sustainable Development Goals, adopted by all United Nations Member States in 2015, represent a universal call to action to "end poverty, protect the planet and ensure that all people enjoy peace and prosperity by 2030." Vryhof is proud to be contributing to five of these key goals with its smart, innovative mooring and anchoring solutions helping manage the energy transition and providing a crucial platform for the roll out of maritime-based renewable energy, infrastructure and food solutions. The result will be the increased viability of aquaculture as the world looks to diversify food sources; affordable and clean energy; new infrastructure, innovation and prosperity; reduced greenhouses gases; and the careful and sustainable management of our oceans.

GOAL 2: ZERO HUNGER
With current estimates that nearly 8.9% of the world's population suffer from hunger, the need for more productive and diverse food sources has become crucial, with zero hunger by 2030 still just a pipe dream. There is also a need for the world to reduce eating habits and rectify the limited caloric intake coming from the world's oceans. Aquaculture is playing a vital role in meeting the world's growing food needs, producing more than half of the world's fish. Against this backdrop, Vryhof is committed to securing a sustainable supply of seafood through the use of its mooring and anchoring technology on offshore aquaculture installations. Current projects include the Ocean Farm 1 and Havfarm 1 Jostein Albert offshore fish farm project in Norway, one of the world's largest floating structures; and other aquaculture future projects across the world, including offshore Canada, Chile, New Zealand, Norway and Scotland.

GOAL 7: AFFORDABLE & CLEAN ENERGY
Clean, sustainable, affordable and widely available clean energy is a key UN Sustainable Development Goal with Vryhof playing a key role in the move towards renewable energy in the wind, wave and solar sectors. With a target of 90% of income from renewables by 2026 and the mooring of over a thousand wind turbines, Vryhof  is at the heart of affordable, clean energy for all. In addition to numerous offshore windmill mooring installations in Japan, Korea, Spain, Portugal, Norway, Scotland and the USA, recent projects include the anchoring and mooring of wave energy prototypes off the coast of Gran Canaria for Danish Wave energy developer, Wavepiston; mooring systems for the WindFloat Atlantic, offshore Portugal, the world's first semi-submersible floating wind farm and the mooring of a 740 KW solar microgrid for the US Air Force off Wake Island, a coral atoll in the Western Pacific.

GOAL 9: INDUSTRY, INNOVATION & INFRASTRUCTURE
Innovation and infrastructure is a great facilitator for the promoting of new technologies, enabling the efficient use of resources and generating new employment and income opportunities worldwide. From renewable energy to aquaculture, cruise ships, artificial islands, floating barges and dredgers, Vryhof's mooring and anchoring solutions are supporting and expanding infrastructure while remaining sensitive to the local environment. Recent projects include the mooring of dredgers for infrastructure-based work in the Middle East and the mooring of concrete floaters for high rise building. The result is the unleashing of new competitive forces, the growth of industries, and greater prosperity for all.

GOAL 13: CLIMATE ACTION
With 2019 the second warmest year on record and CO2 and greenhouse gases in the atmosphere rising to new levels, climate change is impacting economies and affecting lives everywhere. No country is excluded! Vryhof is playing a small but important part in embracing climate action and reducing greenhouse emissions through its eco-friendly operations. Deep Sea Mooring's pre-laid mooring solutions, for example, provide an important alternative to Dynamic Positioning (DP) – the technique required to keep semi-submersible drilling rigs in place (often for many months) and which require a constant use of diesel fuel. Based on rigs being moved eight times a year and between one to four anchor handling vessels being used, Deep Sea Mooring can deliver annual net savings of 34,140m³ or ca 30 million litres of diesel and 80.600 tons of NOx and CO2 emissions.

GOAL 14: LIFE BELOW WATER
Careful management of the ocean as a central global resource is a key feature of a sustainable development future, with in the words of the United Nations "much of our food, and even the oxygen in the air we breathe, ultimately provided and regulated by the sea." In basing its businesses around the ocean, Vryhof is committed to the careful management of the seas, reducing marine pollution and supporting its' ecosystems and diversity. Vryhof is also investing in new facilities to monitor measure mooring lines, leading to safer operations and reduced accidents or potential spills.